Sample service for name badges.
Request a free copy.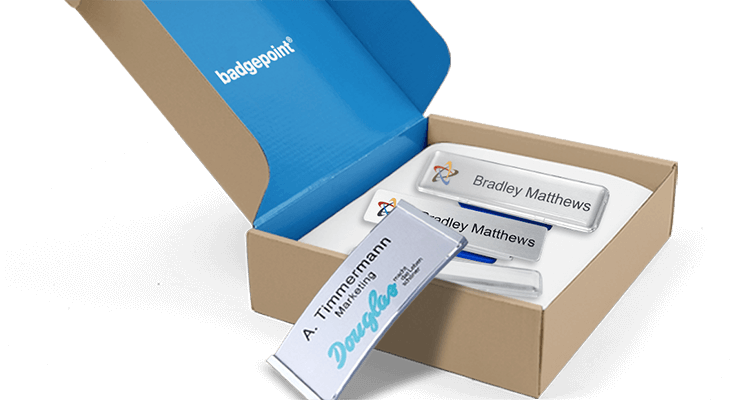 Ready for the practice test?
Order a free name badge sample now!
With the free sample you can get a comprehensive impression of quality, material and handling and test your name badge in daily use.
About badgepoint®
Presenting your company in a professional light is what motivates us from day to day. That's why, here at badgepoint® we develop premium name badges and name tag systems and sell them worldwide. And with success – because as one of the market leaders, we've been setting trends in the international name badge industry for decades.
It's up to you how you want to order from us: by telephone, by email or online. Ours is the only website that gives you the opportunity to design name badges quickly and easily using an innovative 3D configurator. Experience for yourself our wide selection of models, our comprehensive, personal service, our "Made in Germany" quality and our short delivery times.
These days, professional name badges are a key component of customer- and service-oriented workwear. They're also an essential part of a company's corporate identity. They help people connect with each other in every sector, from healthcare and the hotel and catering trade through to trade shows and events. By accurately displaying your corporate design on high-quality materials with custom labeling, badgepoint® ensures your staff can convey a professional, personalized image. It signals a sense of responsibility, expertise and a willingness to interact at any time.
Our philosophy
"Organizations don't have friends – they have customers who they should treat like friends." Prof. Dr. Quadbeck-Seeger, former Research Director at BASF and President of the German Chemical Society
Professional work relationships at badgepoint® are based on respect, honesty, a sense of responsibility and working together with customers to achieve their goals. As our customer, you are our partner – both now and in the future. Our team works hand in hand with you, with reliability and a human touch the key requirements for effective collaboration. Our company philosophy is reflected in our guarantee of consistent "Made in Germany" quality and by the fact that we use only high-quality materials. We aim to present companies, brands and the names behind them in a way that is as individual as they are.
We regularly review both our company structure and new media sales methods. We will manufacture your name badges in accordance with German and European standards, in line with environmentally-friendly principles.
Thank you for your confidence in our easy-to-handle solutions specially tailored to your needs and line of business.