smag® magnetic name badges.
The original with a no-twist guarantee!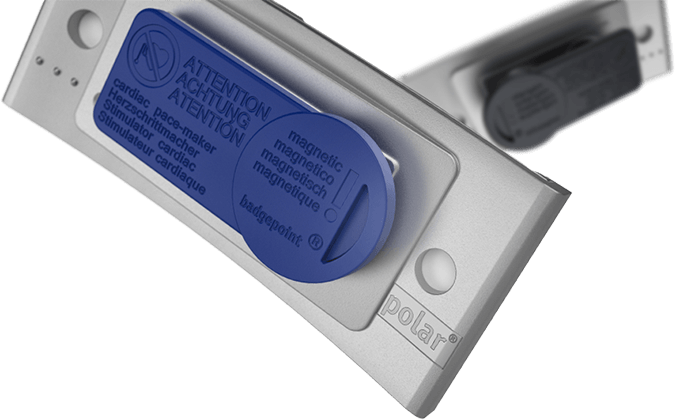 Order our magnet name badges: The ultimate fastening for a secure hold!
You can always count on the patented smag® magnetic name badges: you'll be perfectly prepared for any situation and all types of clothing with our two different strengths - strong and extra strong. No slipping, no twisting and clearly legible names at all times: your name tag can be securely fastened to any type of clothing and always stays firmly in the right place.
Opt for 100% reliability in terms of hold, usage and comfort: smag® from badgepoint® is the only magnetic fastening for name badges with the duo power magnet system. Whatever your area of work – you can concentrate on the job in hand. That's because smag® won't let you down. When you buy a magnetic badge, you should check out the holding strength and the magnetic system. The reason for this is that the holding strength of a magnetic badge depends on how well the fastening is constructed!
Design your name badge now

Very active at work? Regular daily use? Choose smag®!
Name tags with smag® withstand everything you do and stay fixed and secure in any scenario. That's why smag® is the no. 1 fastener, particularly for customers in the healthcare, nursing, catering and service sectors. A secure accessory for people who move around a lot and deal with customers direct on a daily basis.
Magnetic name badges – benefits
Order your magnetic name tags direct from the badgepoint® online store here. Magnetic name badges are available in quantities of 10 and above and are deliverable within 24 hours* if ex stock. Choose from two different magnetic fastening strengths: the standard and extra strong smag® magnet. You can also buy the magnets individually in packs of 10 as an accessory from the store and replace these in your name badges as required.
Available in quantities of 10 and above
Holds firmly to any fabric
For all sectors
Extra strong magnetic strength
Design magnetic name badges now
smag® magnet standard and extra strong:
How much holding strength does my name badge need?
Make no mistake: at badgepoint®, "standard" means 100 percent reliability and comfort! You can select from two strengths for all magnetic name badges for different types of work clothing: smag® standard (blue) and smag® extra strong (black) with twice the magnetic power.
Devised by us, regularly refined and now our best seller:
smag® magnetic fastening – a badgepoint® innovation
Invented in Ahrensburg and now used all over the world. More than 20 years ago, the founders of badgepoint® started working on the idea of a unique magnet holder for name badges. Developed in close collaboration with users and experts, this innovative system has been officially patented on the grounds of its uniqueness. The principle of how the two round magnets engage with each other is quite ingenious. The shallow round bumps interlock to give a secure, rock-steady hold. Adapting the shape and design to users' needs is an ongoing process: it's a system that keeps moving forwards and a system that keeps moving with you!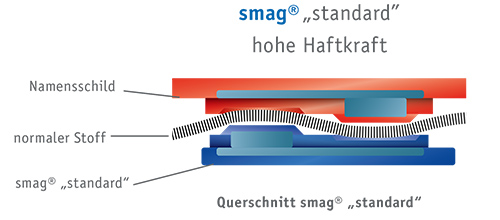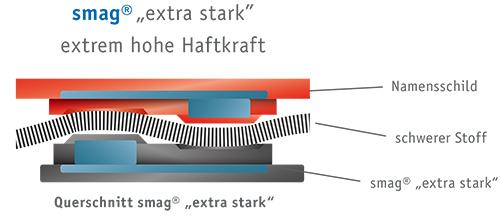 What should you know about magnets?
People who wear a pacemaker are advised not to wear magnetic name badges. In some cases, they can interfere with magnetic cards and electronic devices. Find more in our FAQ and in our safety instructions (download
HERE
).
What if a magnet isn't an option?
Our proven alternatives will satisfy your purpose.
Looking for an economical and functional alternative to the magnet? Our other proven, versatile fastenings are the stainless-steel snap lock pin, clip and lanyard.
Tip: personnel who are in frequent contact with patients fitted with a pacemaker or who wear one themselves should choose a pin or clip instead of a magnet.
See all fastenings
Areas of use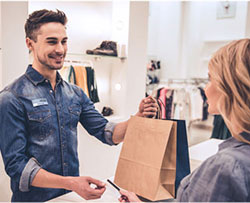 Sales & service
The heat is on, and you need to be a reliable contact partner? Constant physical activity and customer contact go hand in hand, especially in the sales and service sectors. The badgepoint® range of name badges for sales and customer service is extensive, and models are customizable. The polar® is a tried-and-trusted name badge – particularly for sales – with its patented smag® magnet system and no-twist guarantee.
Name badges for sales and service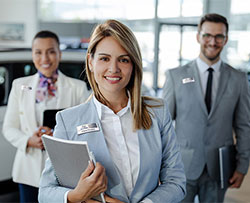 Information & customer service
Highlight your corporate expertise with high-quality name badges for advisory personnel. The styles range from timeless, understated acrylic glass badges such as profil to our exceptional designer name tags – polar® and amigo®. To show your company in the best possible light, not only is it vital that your badge is legible, it also has to look the part. The comfort of the wearer also plays an important role: our name badges for advisory personnel always fit comfortably and correctly thanks to smag® magnets!
Name badges for advisory personnel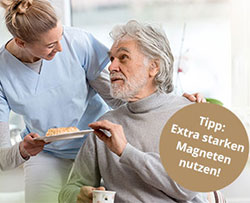 Healthcare and nursing
Name badges with extra strong smag® magnets can cope with anything and stay fixed and secure in any scenario. That's why smag® is the no.1 fastener, particularly for customers in the healthcare and nursing sectors. Our magnetic name badges are your reliable companion in any situation. People rely on you, and you can rely on our name badges, as they're the ideal companion for people who deal direct with customers on a daily basis and who are physically active.
Name badges for healthcare and nursing
Our best magnetic name badges
Labeling
Choose between our three options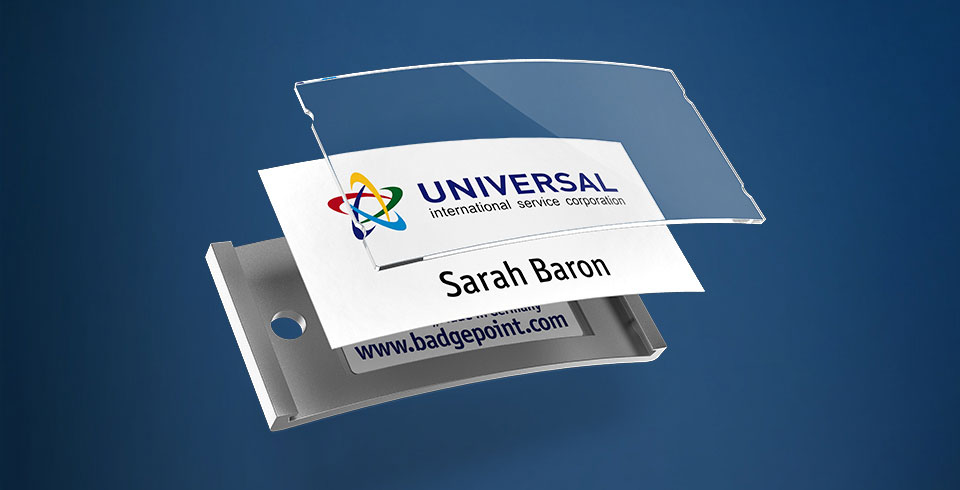 1. Highly versatile:
Order name badges for complete self-printing
Models for self-labeling are ready to ship within 1-2 days
Easy for you to design online!
Order the right printing sheets for the name cards at the same time
The flexibility to label your name cards yourself, or badgepoint® can label them for you
More information on labeling
Take a look now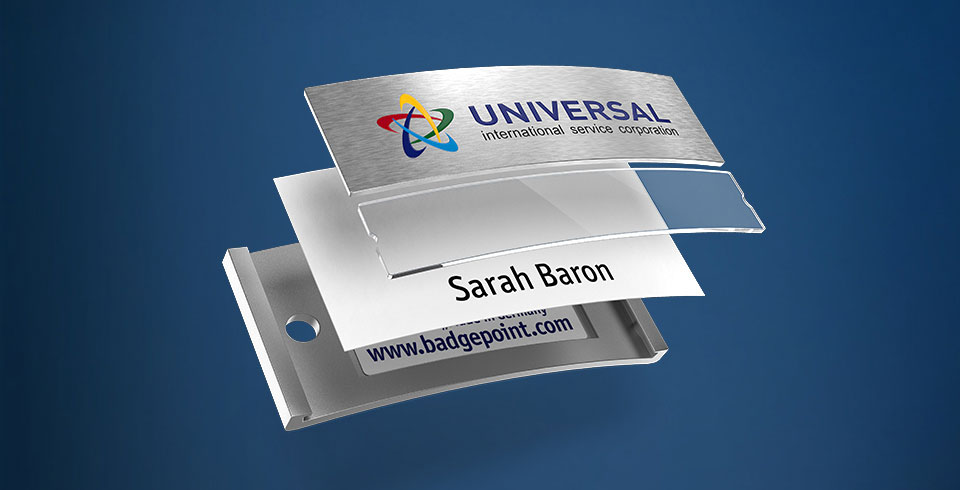 2. Brillant und flexibel:
Order name badges printed with your logo and label them yourself
Professionally printed logo with flexibility when adding names
We print your logo on the front panel with a high-quality finish
You create name cards on your printer, or badgepoint® prints the name cards for you
Reusable: replace name cards yourself as required
More information on labeling
Take a look now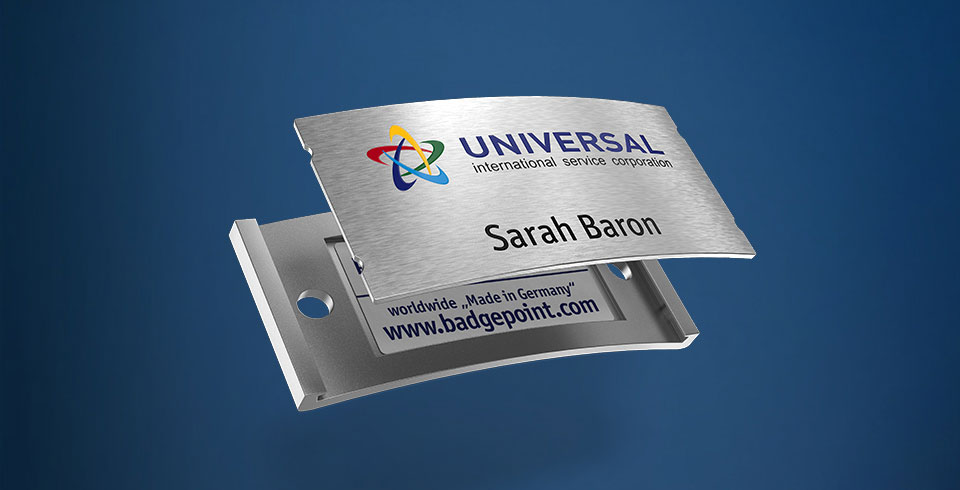 3. Superb presentation and convenience:
Order ready-printed name badges
Fully printed, sophisticated badges
Design them online yourself, or let our team handle all elements of the design
Individual name badges are digitally printed for each member of staff
Reorders from just 5 units possible!
More information on labeling
Take a look now
Six good reasons to label online
Maximum flexibility.
You can see in real time how the typeface, font size, font color and positioning on the badge will look.
Easy to move, edit or delete.
No need for downloads or to import into a new program.
No misprints. The labeling sits in exactly the right position.
The labeling has the right proportions, making it very easy to read.
Buy magnetic name badges now
Still got any questions?
You'll find an overview of our FAQs here
*applies to ex stock name badges for self-labeling. Provided the order is placed before 12 noon and the UPS Express Saver option is selected, delivery will take place on the next working day (for customers within the EU , the Express service takes 1-2 working days).