Name badges for
presentations and trade shows.
Powerful communication
with badgepoint®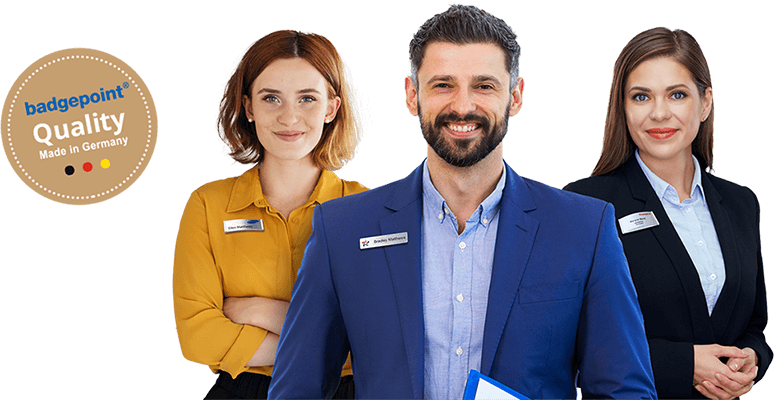 Prestigious name badges for a professional public image
For exhibitions, products presentations and open-house events, name badges are a useful tool to help you convey a friendly attitude and an approachable image. They encourage customers to strike up a conversation and are an important part of your overall image. A badge designed with your corporate identity will help reinforce your brand and clearly identify your team members as the people to make contact with.
Designing name tags online is easy! You can put together your badge from our wide range of badge types, designs, fastenings and custom labeling, including your branding. Models that allow you to do your own printing are more flexible and sustainable. Formal dress code or business casual? Traditional industry or high-tech segment? Leading trade fair, road show or customer presentation? Whatever the application, badgepoint® can supply the name badge you need.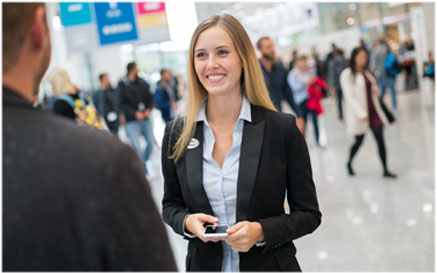 Name badges for trade shows
Name tags are an integral part of a successful exhibition or show. A visual greeting is welcoming and can kick-start valuable discussions. Name badges with large logos, easy-to-read names and a non-tilting magnet fastening are a reliable way to promote communication.
Discover more name badges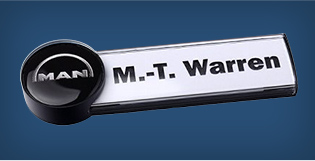 Extra punch for your show
A 3D logo, black-and-white design and bold type powerfully come together on amigo® doming.
Start designing now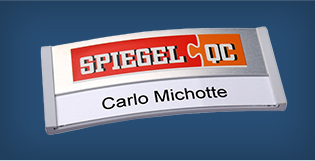 A clear partnership
A modern design in stainless steel, with the emphasis on the printed brand logo: polar® alu-print conveys a powerful presence.
Start designing now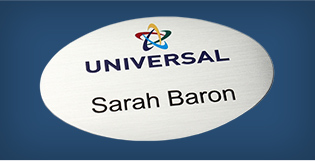 Personable, whichever way you look at it!
The oval-shaped metal aluline complete badge acts like a personal introduction.
Start designing now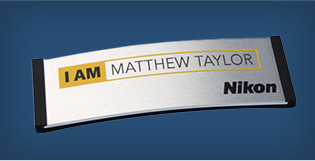 New perspectives
There's nothing negative about this greeting! With the subtle brand profile of this polar® alu-complete, all eyes are on the name of the wearer.
Start designing now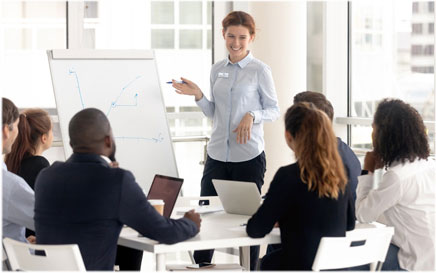 Name badges for presentations
Enhance your presentations by adding an extra visual touch the form of professional name badges. Whether used in a customer meeting or for a product presentation, in sales or customer service ‒ a bright and friendly design motivates people to start up a conversation. And by using inserts that you can label yourself, you can tailor the badges to any event or speaker.
Discover more name badges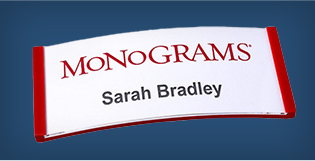 Let´s talk
Sympathetic yet feisty, polar® classic in corporate color red is an invitation to start a conversation.
Start designing now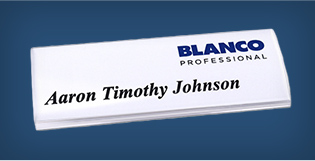 It's crystal-clear!
Perfectly-shaped, the profil acrylic glass badge presents your brand in timeless fashion.
Start designing now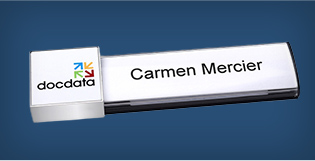 A logistics logo that's worth displaying
The 3D logo on amigo® doming takes clean design to a new dimension.
Start designing now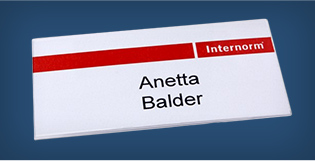 Last-minute badges for professionals
public has a full-surface display area plus name cards for flexible self-labeling.
Start designing now
Your specialists for name badges

Mareen
Neukranz
= __('Sales and Service'); ?>
+49 (0) 4102-8066-133

Nadja
Rehders
= __('Sales and Service'); ?>
+49 (0) 4102-8066-162

Antonia
Goebel
= __('Sales and Service'); ?>
+49 (0) 4102-8066-161

Anja
Bielefeldt
= __('Sales and Service'); ?>
+49 (0) 4102-8066-164
Design name badges online for trade shows and presentations
You can design name badges for trade shows and presentations using our badgepoint® 3D configurator. The advantage of this is that you can see, in real time, how the badge fits in with your overall brand image, making it easier to plan exhibitions and prepare presentations. Choose from prestige models in stainless steel, plastic or acrylic, not to mention various shapes, colors and printing options ‒ right through to our "Ready for use" service. Looking for sustainable name badges? Perhaps you employ staff on a flexible basis? In such scenarios, we recommend badge types with changeable name cards. We supply blank badges or badges with a high-quality printed logo, together with card inserts – simply print them yourself, wherever you are. By the way, are you familiar with our original smag® magnet fastening? No wobbling, no slipping, extremely comfortable to wear; the duo power magnet system stops it tilting and is kind to delicate business attire such as jackets and blouses.
Trade shows and presentations – Services to support your planning
badgepoint® manufactures premium name badges for trade shows, exhibitions and presentations, supplying to customers all over the world. With our industry experience and the ability to fulfill individual requests, we are your flexible business partner when it comes to kitting out your staff with name badges. Our customer service, design (including design service) and production are all located in-house. Many of our badges are available immediately ex stock, with very speedy delivery for some models. Take advantage of our expertise in high-impact name tags to win over the public and open the door to rewarding business relationships. A quick tip for exhibition organizers: to help you create a consistent team image, take a look at our name badge etiquette, where you'll find useful tips on how to wear your name badge correctly.
Planning a large-scale event? We're always here to help and advise you!