Name badges for
sales and service.
Improve sales
with badgepoint®
Wide range of name badges for retail
A friendly demeanor plays a vital role in contact with customers – whether in a bakery, a retail store or a wholesaler. In retail environments, you should make use of different media such as name badges to communicate your business effectively. They represent the final touch for workwear, serving to convey brand personality and competence. Worn on a lapel, blouse or protective clothing, they give out the message that the wearer is approachable.
At badgepoint®, you'll find sales-boosting name tags for retail at reasonable prices. If you want to get your company and brand recognized, it's important to display a consistent corporate identity. Looking for a badge to match your corporate colors? A shiny printed logo, perhaps? Maybe you prefer the flexibility offered by replaceable card inserts that you can print your colleague' names on yourself? Discover our various models and options in the badgepoint® shop.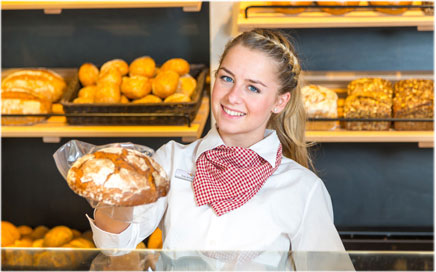 Name badges for classic retail
Sales personnel and checkout staff ideally need name tags that are functional and practical. Whether in a supermarket, DIY store, pet store, gas station or ice-cream parlor, lightweight designs with the right kind of fastening make a reliable accessory for day-to-day work.
Discover more name badges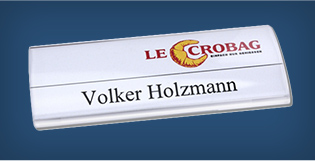 Fresh appearance
Functional and practical: the profil acrylic glass name tag for self-labeling.
Start designing now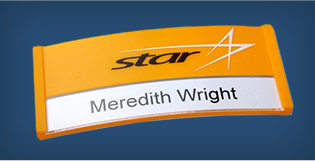 High octane
The curved shape and dazzling yellow color give this polar® color-print a dynamic edge.
Start designing now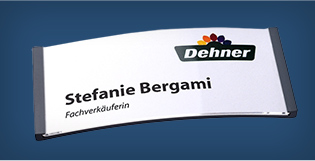 Blooming marvelous!
The subtle logo was printed by the customer on the polar® classic in anthracite blue.
Start designing now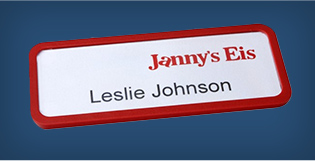 Freedom of movement
office classic copes with every movement when working behind the counter, with no sharp corners digging in.
Start designing now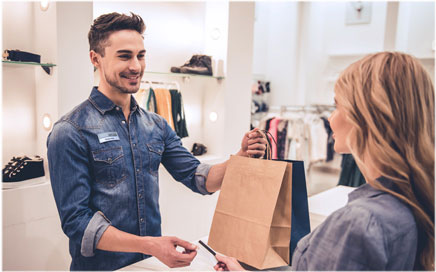 Name badges for sales advice & brand outlets
Bricks-and-mortar retail beats online shopping hands down because it has personality. Which makes it all the more important for sales personnel in the premium price segment to approach customers in a friendly, competent manner. This is where name badges can help. Customers who receive good advice from local businesses tend to repay them with their loyalty.
Discover more name badges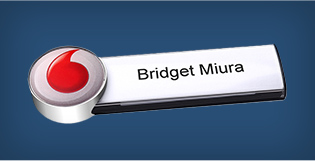 Great reception
Logo in 3D, with simple labeling – amigo® doming is a no-frills eye-catcher!
Start designing now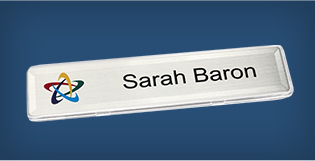 Top eco performer
Featuring replaceable transparent name cards, the classy aluline-plus® system makes selling more sustainable.
Start designing now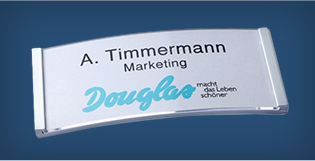 Simply beautiful
polar® quick-print in chrome with a top-quality printed logo on the transparent panel comes across as sincere and stylish.
Start designing now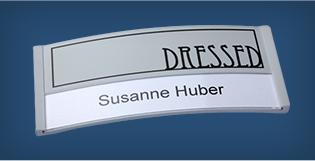 Design icon
This saleswoman is wearing polar® color-print to sell fashion ‒ subtle, yet still dressed to impress!
Start designing now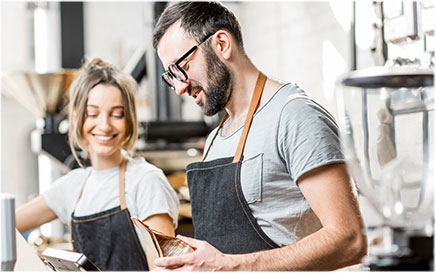 Customized name badges for modern brands and retail concepts
Businesses that sell original goods and have a unique store display pick rather more trendy models for their sales staff, usually in bold colors or with an emphasis on the logo. Whether for a coffee shop, a concept store, a sales showroom or even a food van – individuality is key.
Discover more name badges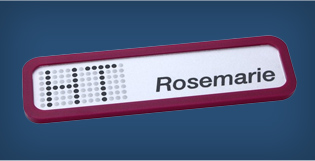 Viva violet!
office quick-print in a flamboyant shade with the logo printed on the reverse of the transparent panel.
Start designing now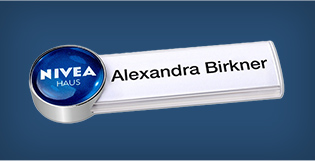 A perfect likeness
The 3D logo on amigo® doming model looks like a miniature version of the original. Truly unique!
Start designing now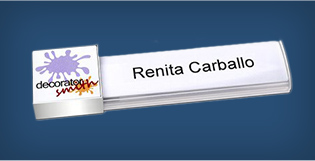 Artistic decor
A creative service and a creative look, with a shiny logo printed on amigo® alu-print.
Start designing now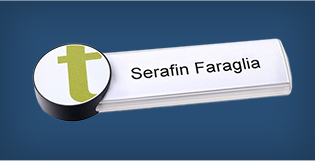 A matter of form
amigo® alu-print, shown here with a round logo section and printed white front panel, creates a strong visual logo.
Start designing now
Finding the right name badges for sales and service
The badgepoint® range of name tags for sales and service varies widely, and the models can be custom-designed. These are the important criteria when choosing your badge: the design and shape, material, size and color, the printing (logo and name), plus the fastening method. For sales personnel, you have a wide range of models to choose from, all of which will meet your requirements in terms of presentation and budget, offering the flexibility of self-labeling to cope with staff turnover. The models with a particularly good track record in sales are the slightly convex polar® designer badge in stainless steel and plastic, the lightweight plastic office badge (featuring rounded corners and available in up to 18 colors), and the classy amigo® doming series. With their understated, high-quality appearance, acrylic glass badges are good for promoting sales.
Name badges for sales –versatile name tags with custom designs
For many a salesperson, putting on a name badge is the first thing they do when they start a work shift. Put yourself in their shoes and help bolster their motivation and the way people identify with your company. How attractive is their name badge? Is it easy to put on; is it kind to workwear and clothing? How well does it meet the requirements of day-to-day work such as movement, hygiene, lightness? You can easily design and customize a suitable name badge online. Tip: to secure name badges in a sales environment, we recommend our patented smag® magnetic system, which is kind to clothing and comes with a no-twist guarantee. In our online shop you'll also find accessories, such as printing sheets for name cards, replacement magnets and spare transparent panels.
It goes without saying that we support our customers with a range of services. With badgepoint®, you can rely on our many years of experience, plus technical expertise and comprehensive customer service.