Stainless steel name badges
from badgepoint®:
for a particularly sophisticated image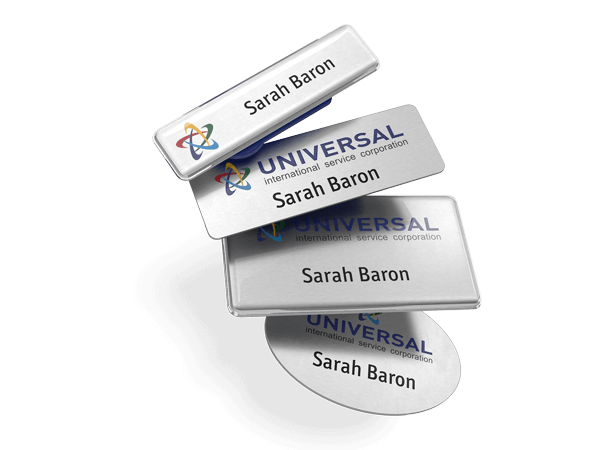 Benefits
We offer a wide range of high-quality and extremely reliable name tags so that your staff are perfectly equipped to represent your company. We offer a variety of options as far as shape, appearance, labeling and fastenings are concerned. If you're looking for high standards in quality, paired with a sophisticated appearance, then our stainless steel name badges are the perfect product for you.
Wide choice of sophisticated designs
Ready to ship in 1-2 days*
For all sectors
Made in Germany
Our most prestigious name badges
With these models, you're making the right choice: high-grade materials, comfortable to wear and a prestigious look!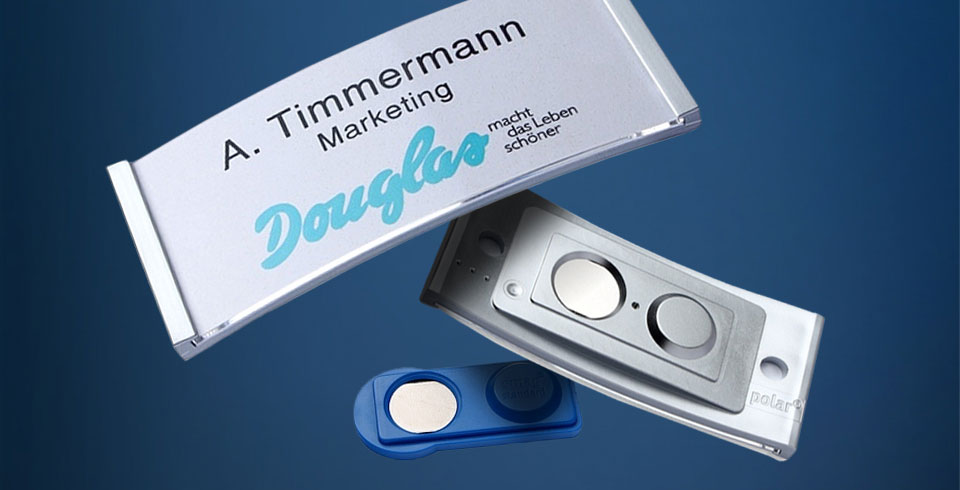 Custom stainless steel name badges from badgepoint®
badgepoint ® offers you the opportunity to design your name tags in line with your specific requirements. You choose from different sizes and printing formats: we print your logo and the name in a high-quality finish onto the actual aluminum panel or you label your metal name badges online yourself.
Design now
More information about labeling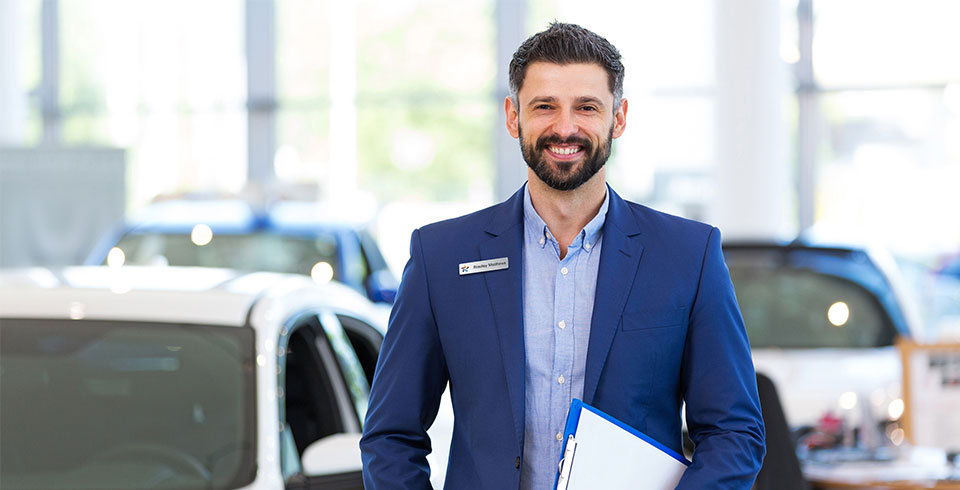 Areas of use
Name badges made from stainless steel are the icing on the cake. This is particularly true in highly prestigious sectors, where a company's unique appeal is reflected in all aspects of its appearance, and where every last detail has to be correct. So why not place your trust in the unique quality of our stainless steel name badges and show your customers and business partners what your company stands for through your choice of staff name tags!
The high quality and prestige of our stainless steel name badges underlines a company's credibility and competence. This means they suit traditional companies, as well as aspirational, innovative firms.
Click here for inspiration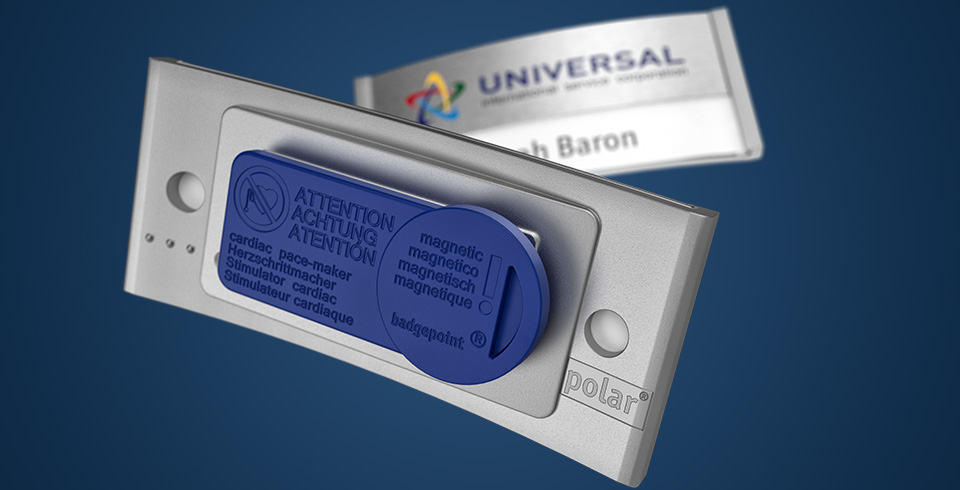 Tips for an extra firm hold
Looking for the most secure hold for your name badges? If you are, we recommend our innovative smag® magnet system. With no slipping or twisting, your stainless steel name badge is firmly attached and won't damage your clothing.
With our configurator, you can also create customized name badges in line with your requirements and expectations in an instant on our website before ordering. You tell us what it should look like, and we deliver it!
More about our magnetic name badges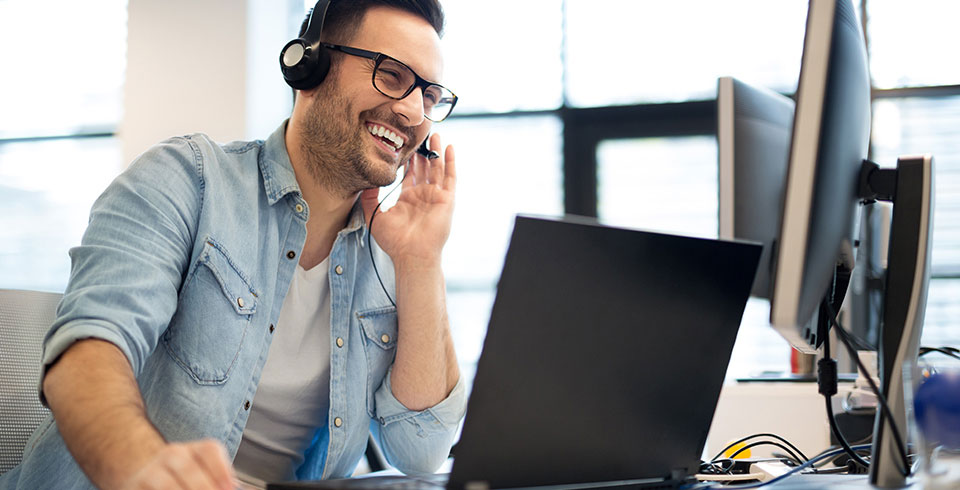 Your partner for perfect name badges

with ideas, advice and inspiration
Variety is great, variety requires decisions. Trust in our support. Materials, sizes, fastenings, print solutions: there are lots of design options. Already know what you need? Design your name badges online in an instant. Ordering for the first time? Finding it difficult to decide? In a hurry? Try out our 3D configurator, it's self-explanatory and good fun. Or use the direct support option. We know what questions to ask based on our experience, and you'll receive recommendations straight away.
Contact us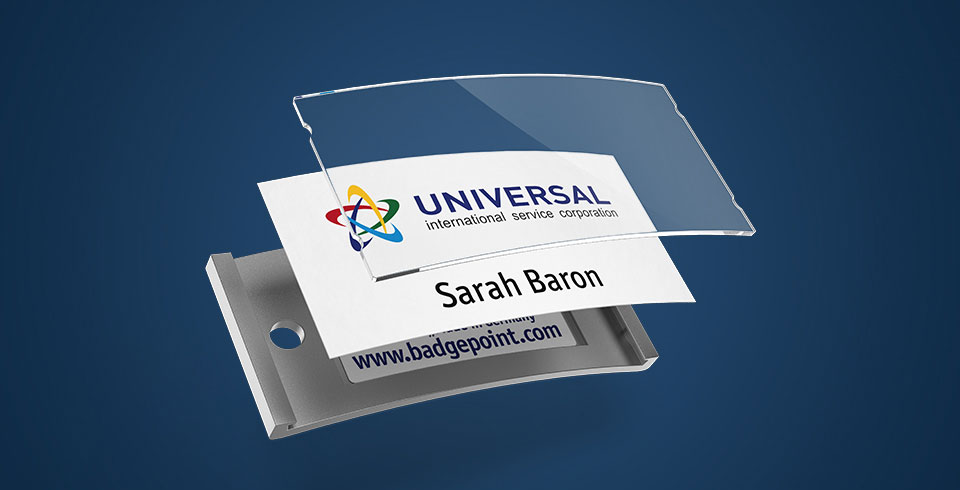 Video tutorials for our name tags
We show you how to replace the name cards in our name badges quickly and easily.
Go to video tutorials
Any more questions?
You'll find an overview of our FAQs here
*applies to name tags for self-labeling that are ex stock. For orders worth 250 € or more, we deliver free of charge within EURO zones 1–4 using UPS Standard delivery. Orders placed before 12:00 noon by selecting the UPS Express Saver delivery option will be delivered within Germany the next working day, (for customers within the EU, the Express service takes 1-2 working days). We'll calculate the exact transit time for you on request. More information under shipping and delivery terms.